Welcome to UF4CD Retired!  This web site is developed by the DVC Retirees Association and generously hosted by the United Faculty.
Our Purposes include maintaining contacts with friends and the college; and distributing information of value to members
The  menu at the top lists  topics on our site. To the right is a Search tool and recent Posts.
Do you have information you would like to share with other 4CD retirees? 
Questions? Want to Volunteer? Contact us
Spring Luncheon – April 23, 2023, 11:30 AM at DVC Diablo Room !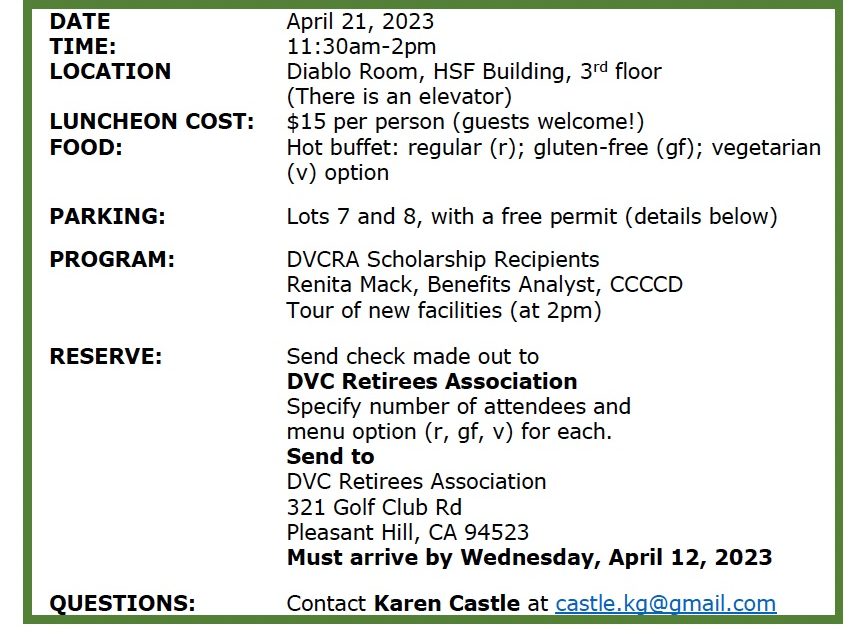 It's a new year and time to RENEW your Membership, click below
Printable form (pdf)      Printable form (doc)  
The Spring 2023 DVCRA Newsletter is Here
Memorial Bricks – photos here
then choose DVC Retirees Association
MAKE A MEMORIAL CONTRIBUTION then specify in whose honor
In Memoriam,  those we miss
Information Concerning Food and Housing Insecurity